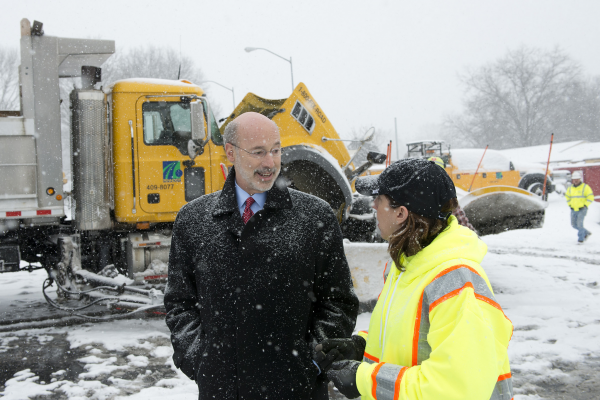 March 12, 2017 at 15:30 EDTPA.gov
Harrisburg, PA – Governor Tom Wolf today reminded Pennsylvanians to prepare for the coming winter weather, and assured residents that state agencies are taking steps to ensure they and local communities are ready to respond and prepared for the worst.
"State agencies are taking proactive steps to ensure Pennsylvania is ready for the incoming winter weather and Pennsylvanians should take their own precautions and prepare for adverse conditions, especially for travel," Governor Wolf said. "We are preparing for the most significant part of the storm to hit the Eastern half of the state from Monday night into Tuesday's commute. I ask residents and commercial drivers across the commonwealth to prepare to avoid unnecessary travel on roadways during this time – as to let road crews and emergency responders do their jobs and minimize dangerous travel."
State agencies, including Pennsylvania Emergency Management Agency, PennDOT, State Police and the Pennsylvania National Guard, are coordinating to ensure resource needs can be met throughout the commonwealth and formulating plans to increase resources in areas forecasted to be hit hardest by the storm.
An emergency declaration for the storm has not yet been issued but the Governor will be prepared to do so should agencies need one as they assess needs statewide over the next 24 hours. Travel restrictions for personal and commercial drivers may also be put in place tomorrow evening into Tuesday should they be necessary to minimize dangerous travel.
This is a complex winter storm system that will first impact southern and western Pennsylvania by Monday evening. The storm will overspread the state overnight, with heavy and blowing snow at times. Snow will continue throughout the day on Tuesday before tapering off during the evening hours for many. Snow showers will continue for parts of Pennsylvania through Wednesday. With more than a foot of snow forecasted for much of the state, citizens should be aware that hazards associated with this storm include treacherous travel due to heavy and blowing snow, as well as possible utility outages and downed trees.
"We are preparing for significant snow and winds and the impacts that those conditions could have on travel and public safety during and after the storm," said Richard D. Flinn Jr., director of the Pennsylvania Emergency Management Agency. "This is the time between now and when the storm arrives for residents to ensure they have emergency supplies and stocking up on anything that they may need over a period of adverse weather."
Flinn said the Commonwealth Response Coordination Center at PEMA headquarters outside Harrisburg will activate at 10 p.m. on Monday with staff from PEMA and other state agencies, and residents should also do what they can to be ready and have emergency supplies on hand at home. To learn more about how to prepare for winter storms, please visit here.
Motorists can check conditions on more than 40,000 roadway miles, including color-coded winter conditions on 2,900 miles by visiting http://www.511PA.com. PennDOT's Automated Vehicle Locator plow tracking tool is available for all of the more than 2,200 PennDOT-owned and rented plow trucks, with vehicle locations viewable on 511PA.
"Our team is prepared and will work around the clock during the storm to keep roads as safe as possible," said PennDOT Secretary Leslie S. Richards. "We urge the public to think of safety first and avoid travel during the storm unless it is absolutely necessary."
Drivers can take the following steps to ensure safety for themselves and others during adverse weather:
Monitor weather forecasts and postpone travel if necessary, especially over long distances during the storm.
Slow down while driving when snow is falling and always wear your seat belt. Leave plenty of distance between you and the vehicles you are following.
During squalls or whiteouts, do not stop on the roadway. Come to a complete stop only when you can safely get as far off the road as possible or when there is a safe area to do so.
When encountering plows, stay at least six car lengths behind an operating plow truck and remember that the main plow is wider than the truck.
When a plow is approaching you, move as far from the center of the road as is safely possible and remember that snow can obscure the actual snow plow width.
Free emergency preparedness information, including templates for family emergency plans and checklists for emergency kit supplies, is available at www.ReadyPA.org. Follow @ReadyPA on Twitter and like ReadyPA on www.facebook.com/BeReadyPA for more emergency preparedness information.